ARMIDA A9 1200m and 500m
We are offering this version with a Seiko NH35A movement .
This movement is well known as an excellent and very reliable movement.

The NH35A features: 24 Jewel - automatic winding - power reserve is about 40h when fully charged - second
stops when crown pulled out .
There are differences between the 1200 and the 500 version.

The A9 1200 has a helium relase valve - the 500 does not.
The A9 1200 dial has applied indices - the 500 dial is printed only.
The A9 1200 has the bezel minute marks till 15 - the 500 has them all around

The A9 1200 has a modern bracelet - the 500 a vintage rivet style bracelet. Both bracelet types have solid endlinks.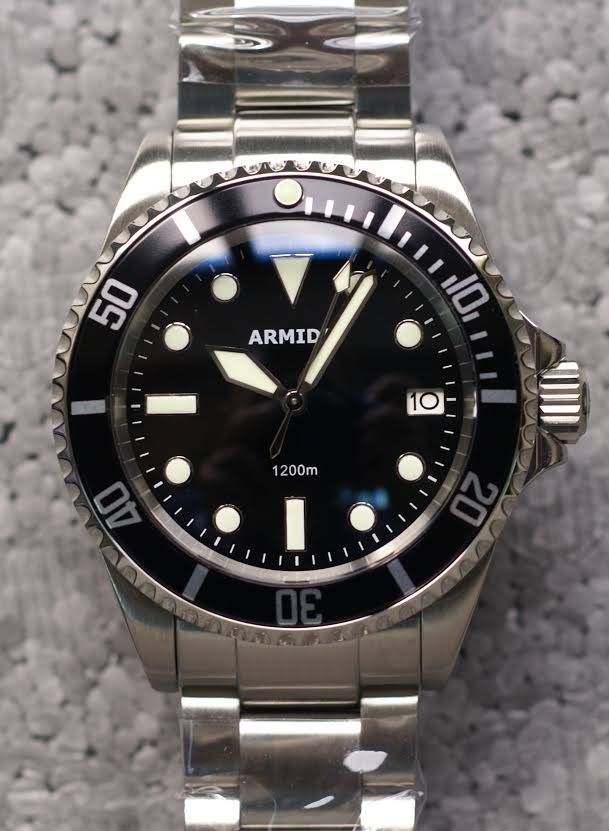 ARMIDA A9 1200m Diver black

- 316l stainless steel case
- black dial

- All silver hands
- C3 lumed bezel dot, hour markers and hands
- 38.5 mm case diameter
- 39.5 mm bezel diameter
- Lug to lug 47.8 mm
- Lug distance 20 mm
- Height 15.7mm
incl. domed crystal
- Sapphire crystal 3mm
double domed
- Anti reflective coating on the inside crystal
- 20mm bracelet and rubber strap
- Waterproof to 1200m/3937 feet
- Screwed and signed crown 7mm
- 1 Year International Warranty
Price USD $399.00
inclusive international shipping
sold out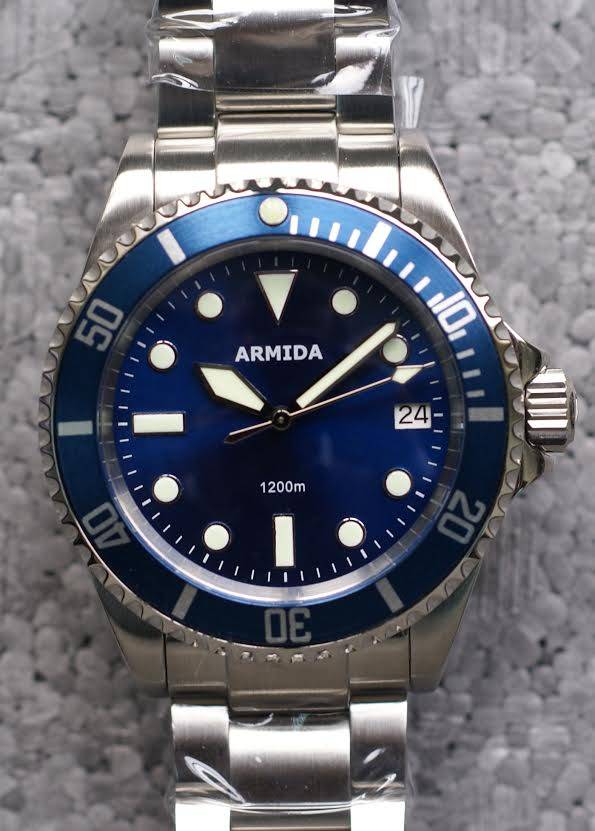 ARMIDA A9 1200m Diver blue

- 316l stainless steel case
- blue sunbrush dial

- All silver hands
- C3 lumed bezel dot, hour markers and hands
- 38.5 mm case diameter
- 39.5 mm bezel diameter
- Lug to lug 47.8 mm
- Lug distance 20 mm
- Height 15.7mm
incl. domed crystal
- Sapphire crystal 3mm
double domed
- Anti reflective coating on the inside crystal
- 20mm bracelet and rubber strap
- Waterproof to 1200m/3937 feet
- Screwed and signed crown 7mm
- 1 Year International Warranty
Price USD $399.00
inclusive international shipping
ARMIDA A9 500m Diver black

- 316l stainless steel case
- black dial

- All silver hands
- C3 lumed bezel dot, hour markers and hands
- 38.5 mm case diameter
- 39.5 mm bezel diameter
- Lug to lug 47.8mm
- Lug distance 20mm
- Height 14.8 mm
incl. domed crystal
- Sapphire crystal 2.6 mm double domed
- Anti reflective coating on the inside crystal
- 20mm bracelet and rubber strap
- Waterproof to 500m/1650feet
- Screwed and signed crown 7mm
- 1 Year International Warranty
Price USD $399.00
inclusive international shipping
sold out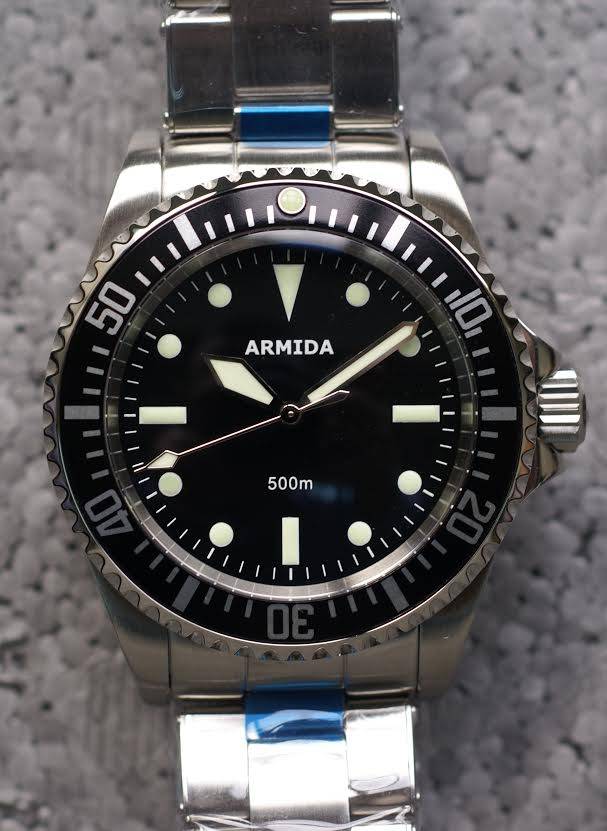 ARMIDA A9 500m Diver black no date

- 316l stainless steel case
- black dial

- All silver hands
- C3 lumed bezel dot, hour markers and hands
- 38.5 mm case diameter
- 39.5 mm bezel diameter
- Lug to lug 47.8mm
- Lug distance 20mm
- Height 14.8 mm
incl. domed crystal
- Sapphire crystal 2.6 mm double domed
- Anti reflective coating on the inside crystal
- 20mm bracelet and rubber strap
- Waterproof to 500m/1650feet
- Screwed and signed crown 7mm
- 1 Year International Warranty
Price USD $399.00
inclusive international shipping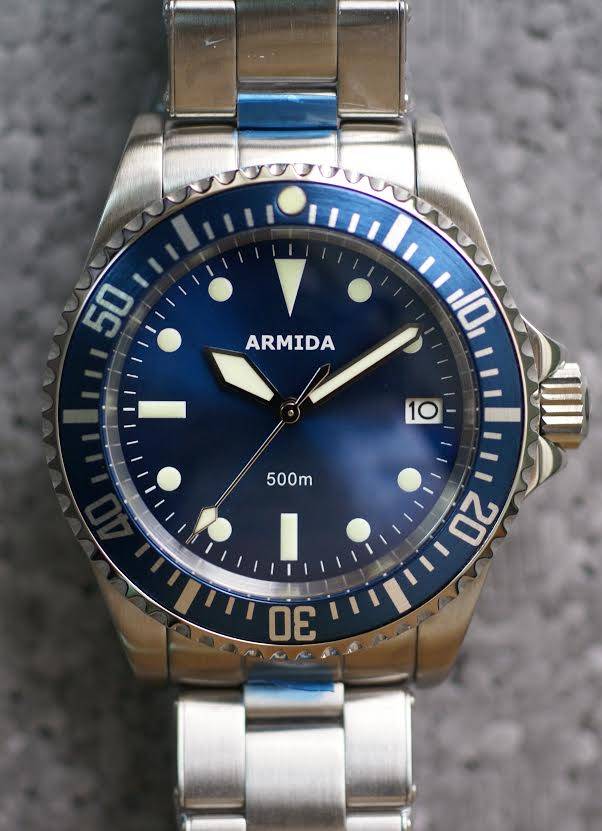 ARMIDA A9 500m Diver blue

- 316l stainless steel case
- blue sunbrush dial

- All silver hands
- C3 lumed bezel dot, hour markers and hands
- 38.5 mm case diameter
- 39.5 mm bezel diameter
- Lug to lug 47.8mm
- Lug distance 20mm
- Height 14.8 mm
incl. domed crystal
- Sapphire crystal 2.6 mm double domed
- Anti reflective coating on the inside crystal
- 20mm bracelet and rubber strap
- Waterproof to 500m/1650feet
- Screwed and signed crown 7mm
- 1 Year International Warranty
Price USD $399.00
inclusive international shipping